Short weekend activation of a "high point" in New Jersey and the highest point in the Catskill Range. I'll go over the NJ activation briefly and go into detail on the Slide mountain activation.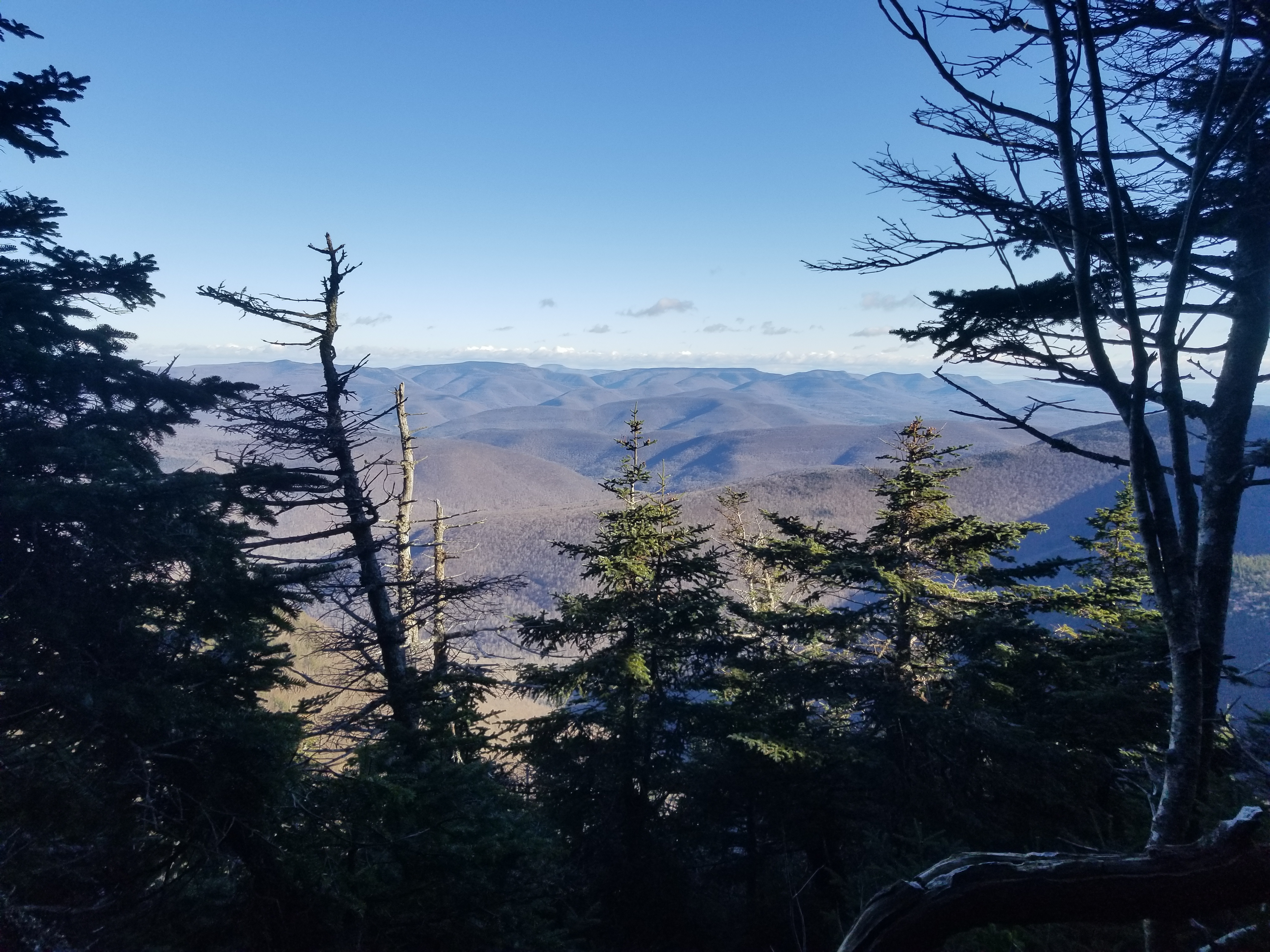 Views from the top of Slide Mountain
The Summit, part 1: Stonetown HP
Stonetown HP is a 1-point, simple activation right off an intersection near Ringwood, NJ in the neighborhood of Stonetown. It is clearly visible from the surrounding area and only a quick hike up. There is a loop available about 1 mile up to get to the top safely. It's also known as "Windbeam Mountain" and gives okay-ish views of the surrounding area.
To get there, just follow the blue trail.
The Summit, part 2: Slide Mountain
Slide Mountain is the tallest mountain in the Catskill Range. It towers at 4,180ft above the surrounding slide mountain wilderness area. When we went, there were several inches of ice making a bowling alley of the trail as it breaks above the treeline. Fair game in a winter activation, right?
Parts of the trail in Slide Mountain
The summit quite literally towers over the rest of the mountains, but offers the best views right before the peak: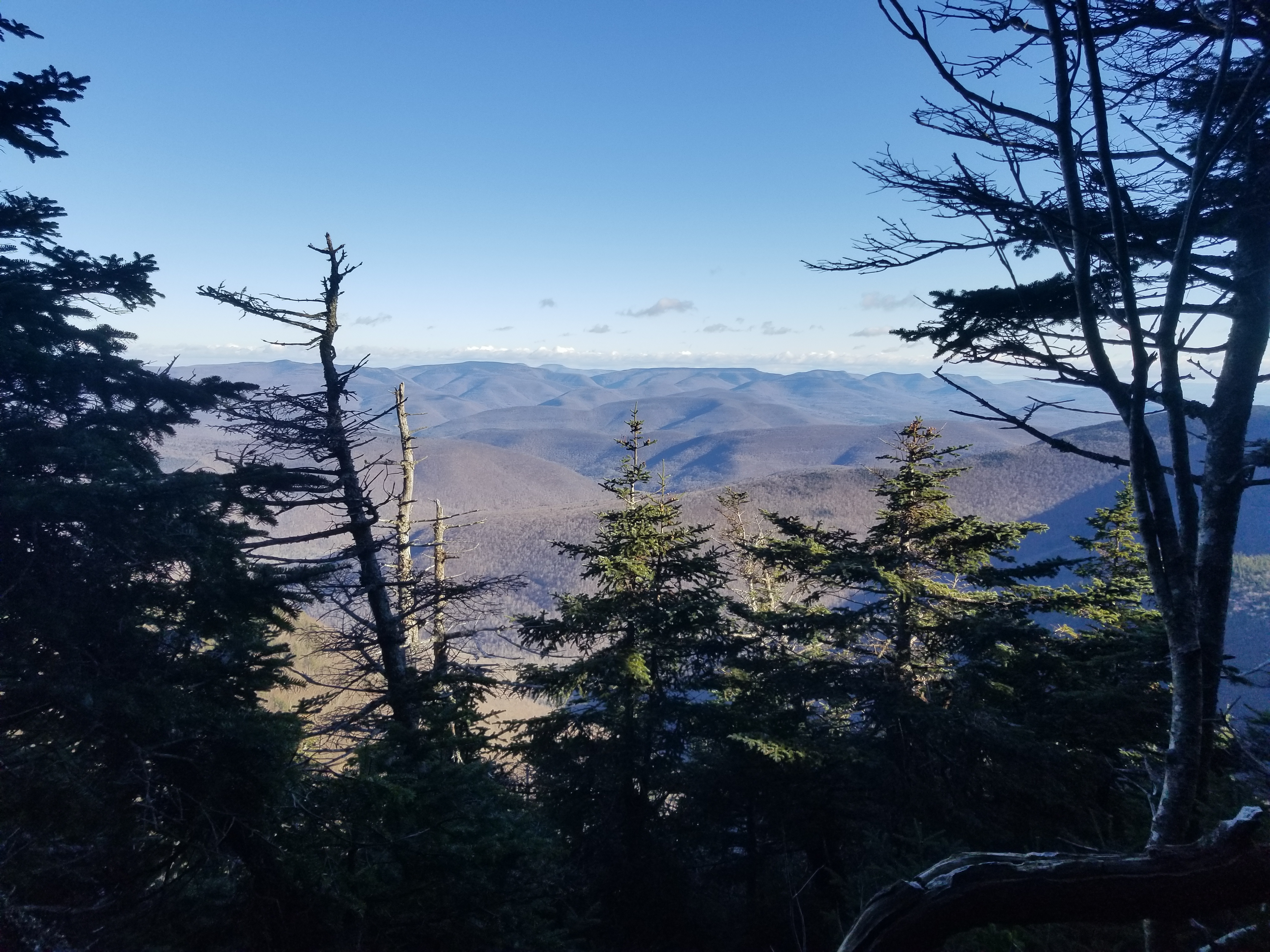 View at the top
Equipment
Again with the new standard SOTA kit: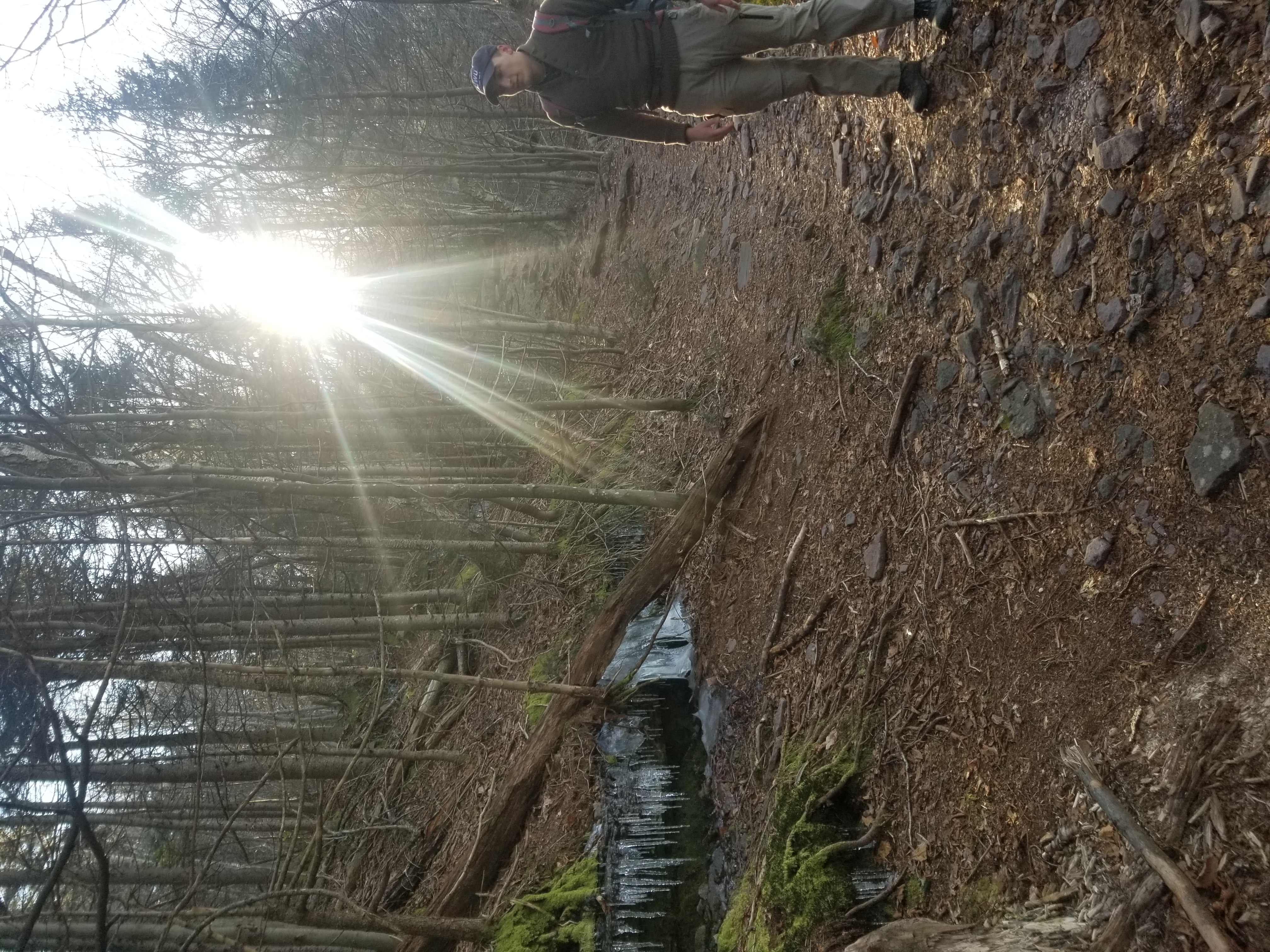 N2WU admiring a waterfall
The N2WU Case-X2
The K6ARK Random Wire
25ft of climbing rope with a belay carabiner
Hard-shell Jacket, thick shell gloves, winter beanie, and extra sweatshirt
CW Notebook and pen
A military surplus-issued J37 Straight Key. It works with the beefiest of gloves and most frozen hands.
1L water
APRS-Enabled TM-D72A
Kahtoola Microspikes for winter activations
1 8oz. Fishing lure
A GPS Watch with the Slide Mountain course loaded
Total weight - 10-15 lbs. I brought everything I would possibly need up there and was still a little cold.
Excursion
NJ Activation
This summit was a joint activation with Orrin KD2WXP. We started at about 1630 (twilight for NY/NJ) and got up at 1505. I had a spot report for 1510 so I got set up quickly and made my four. We bushwacked the way up (not recommended - almost a 4 level scramble) but took the blue marked trail on the way down in the dark. It is a nice, gentle hike that will get you up in a breeze.
Nightime Operating
Slide Activation
The Slide trail totaled about 5.4 miles and was a light scramble. I would be very easy except for the two or so deep streams we had to cross, and the layers of ice at the top of the mountain. I loaded a GPS file on my watch and had a topographic map handy, but the yellow and red foot trails were very easy to follow.
Like I said, the ice made a bowling alley of myself and Cavan K0SAX: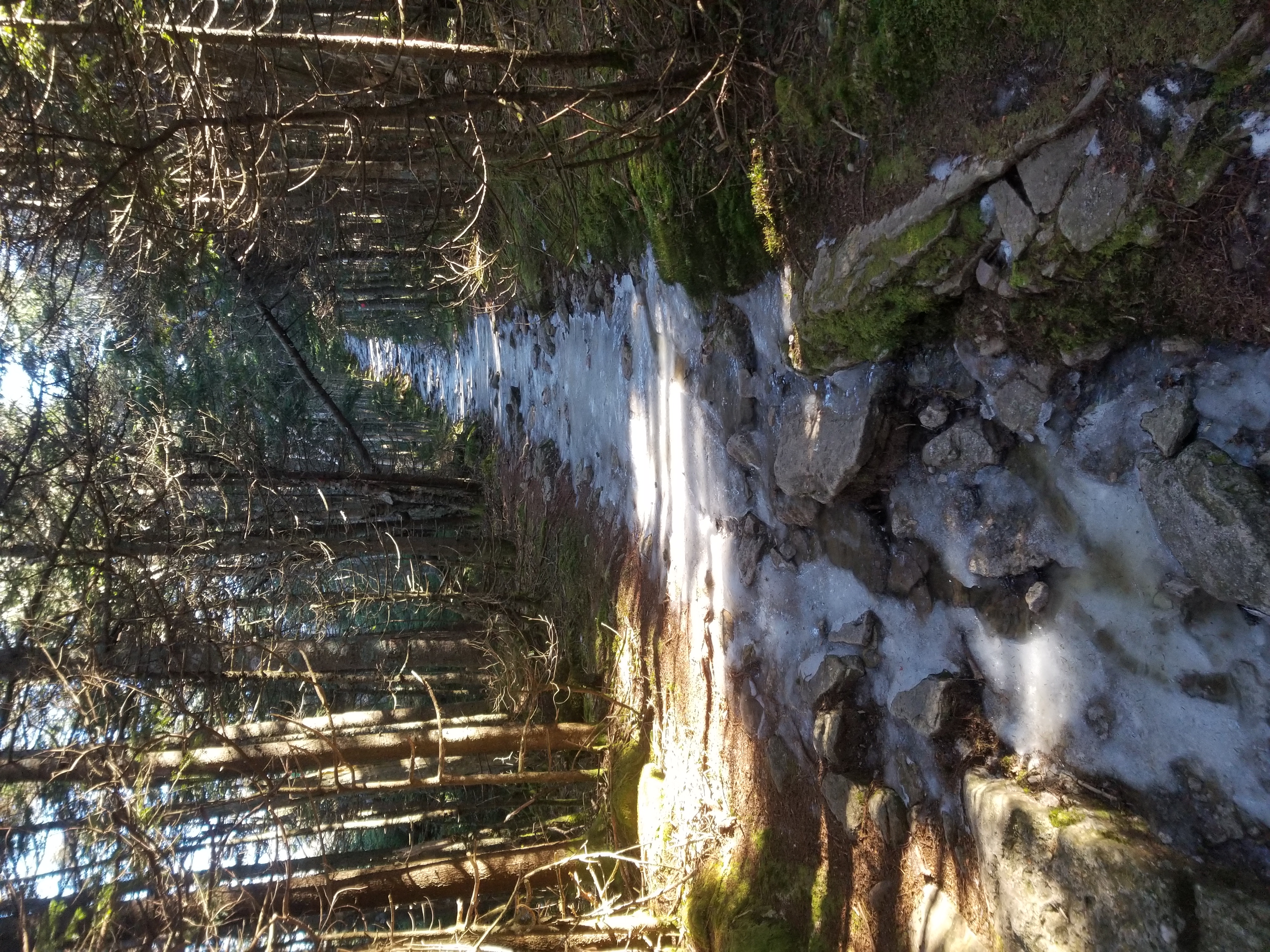 Plenty of Ice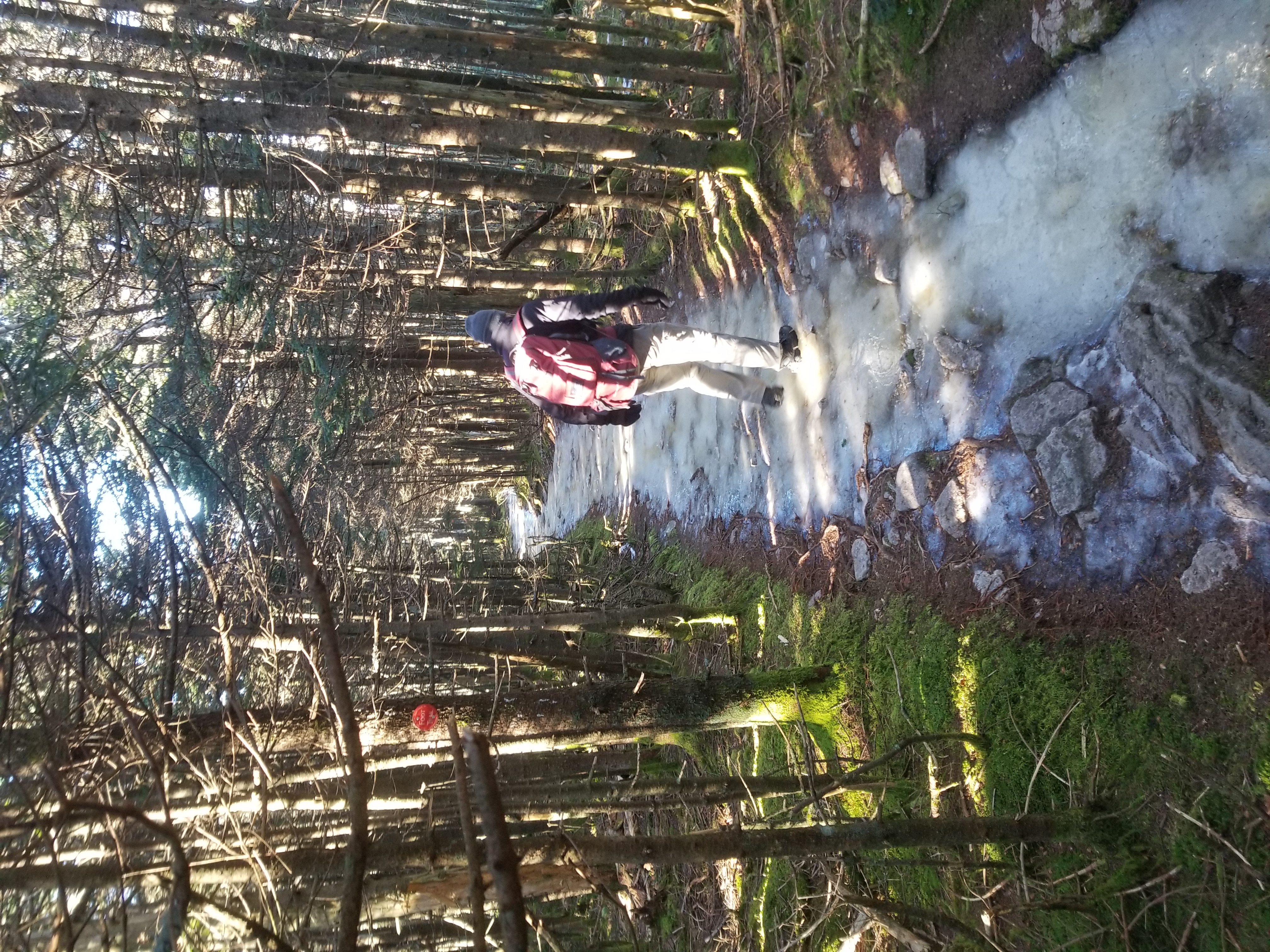 Even more Ice
What's slightly off-putting is the lack of views at the top. You are greeted by a concrete slab: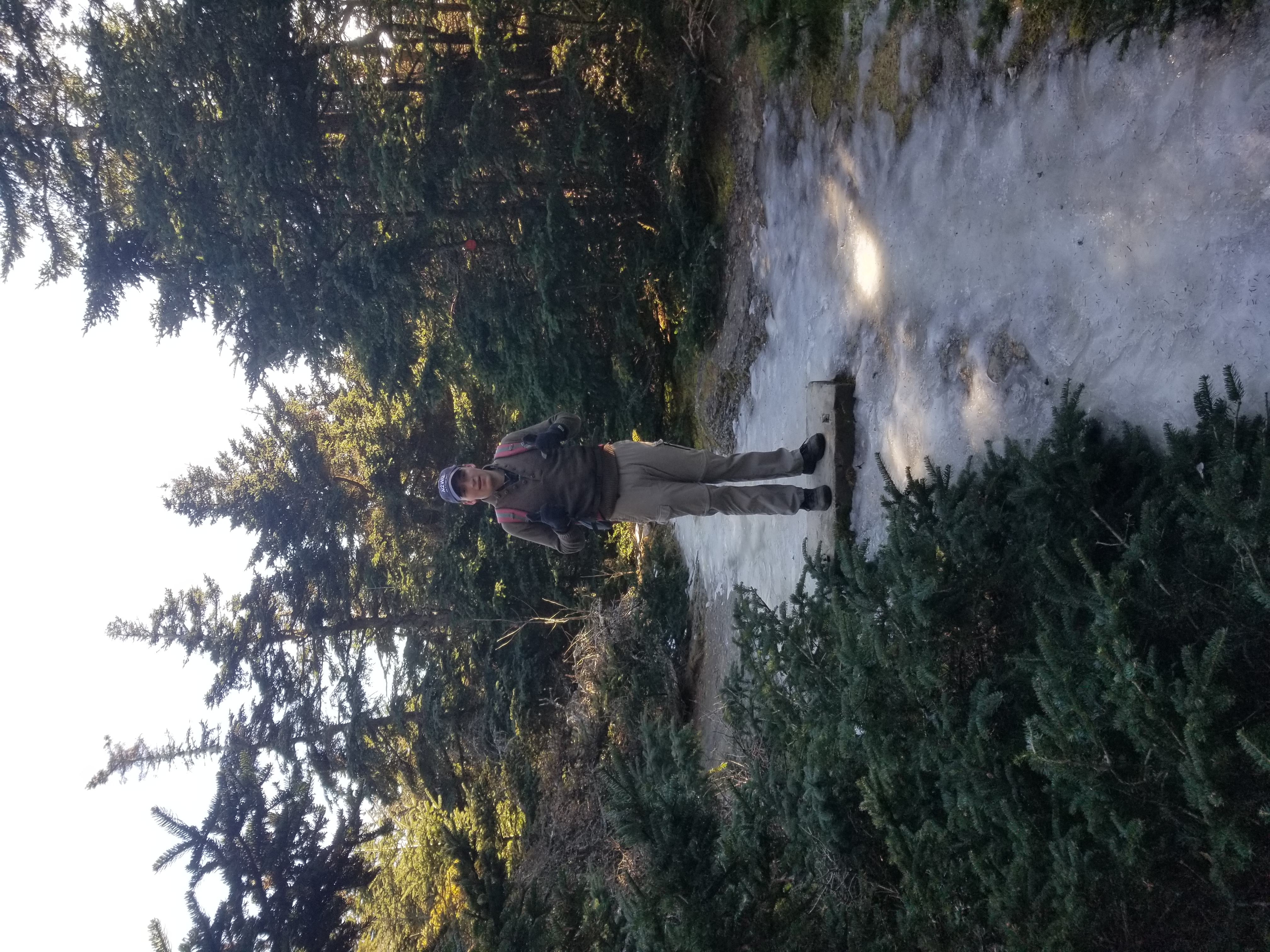 N2WU at the top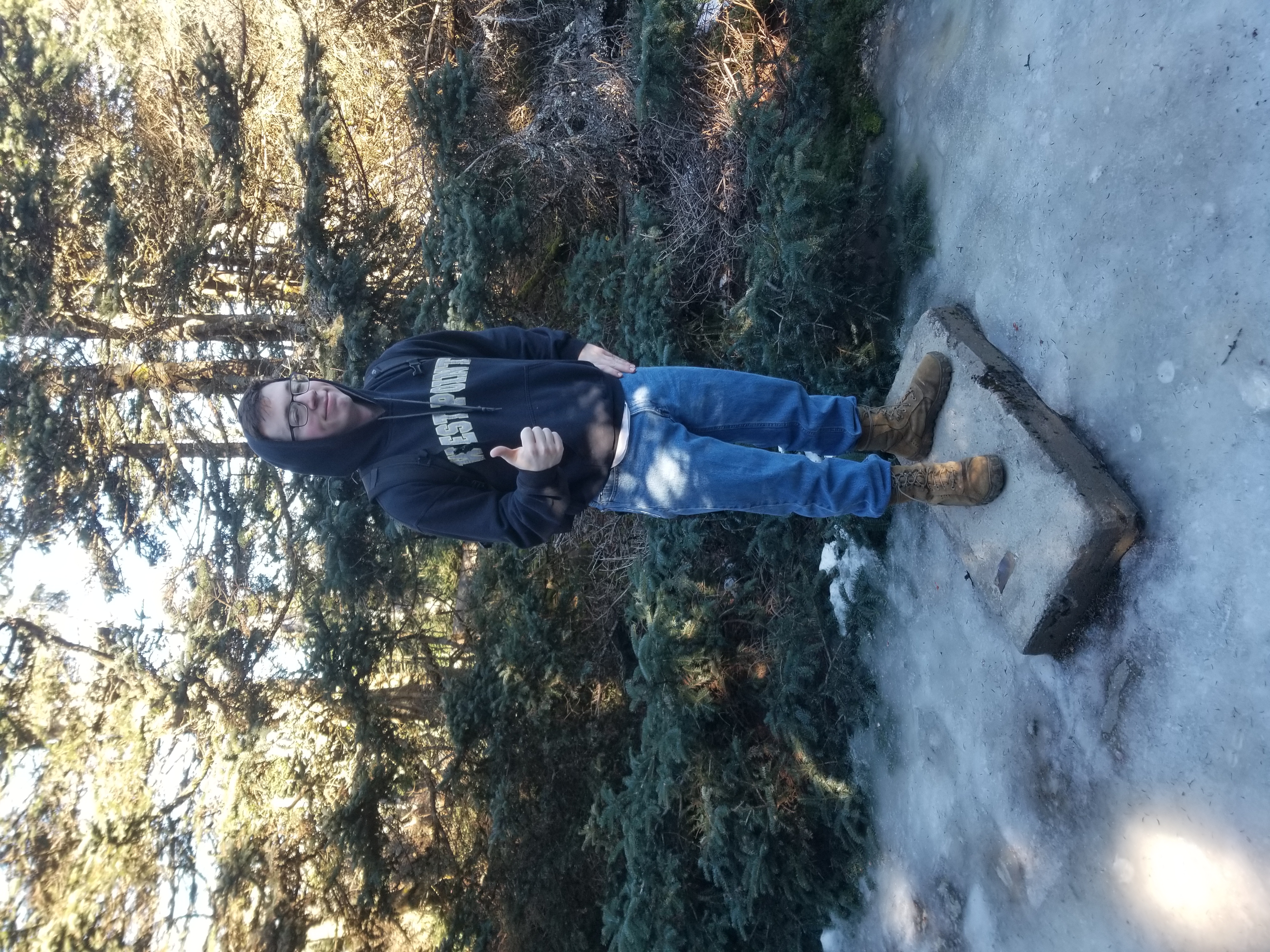 K0SAX at the top
Contacts
I operated APRS as N2WU-9. It only registered somewhat near the summit. I couldn't get cell service anywhere at the top: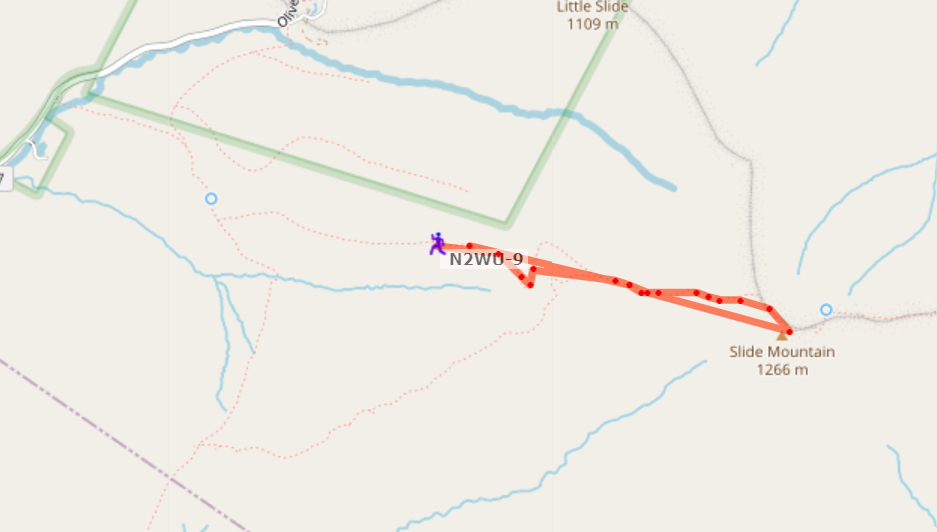 I put an early SOTA Alert for about 3hrs from our drive. We were nearly an hour early, so I sent an APRS SOTA spot and got on the map pretty quickly: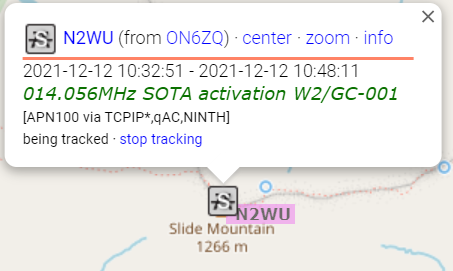 I operated CW 10W. Here's my contact list and a KML generated with advice by Steve K2GOG using the ADIF-KML program.
Contact List
New Jersey
I think I managed some grey-line propagation to these stations:
| Callsign | Band | Time | Location |
| --- | --- | --- | --- |
| K6HP | 20M CW | 2115Z | California |
| AK5SD | 20M CW | 2117Z | California |
| N6WT | 20M CW | 2118Z | California |
| WB6POT | 20M CW | 2120Z | Texas |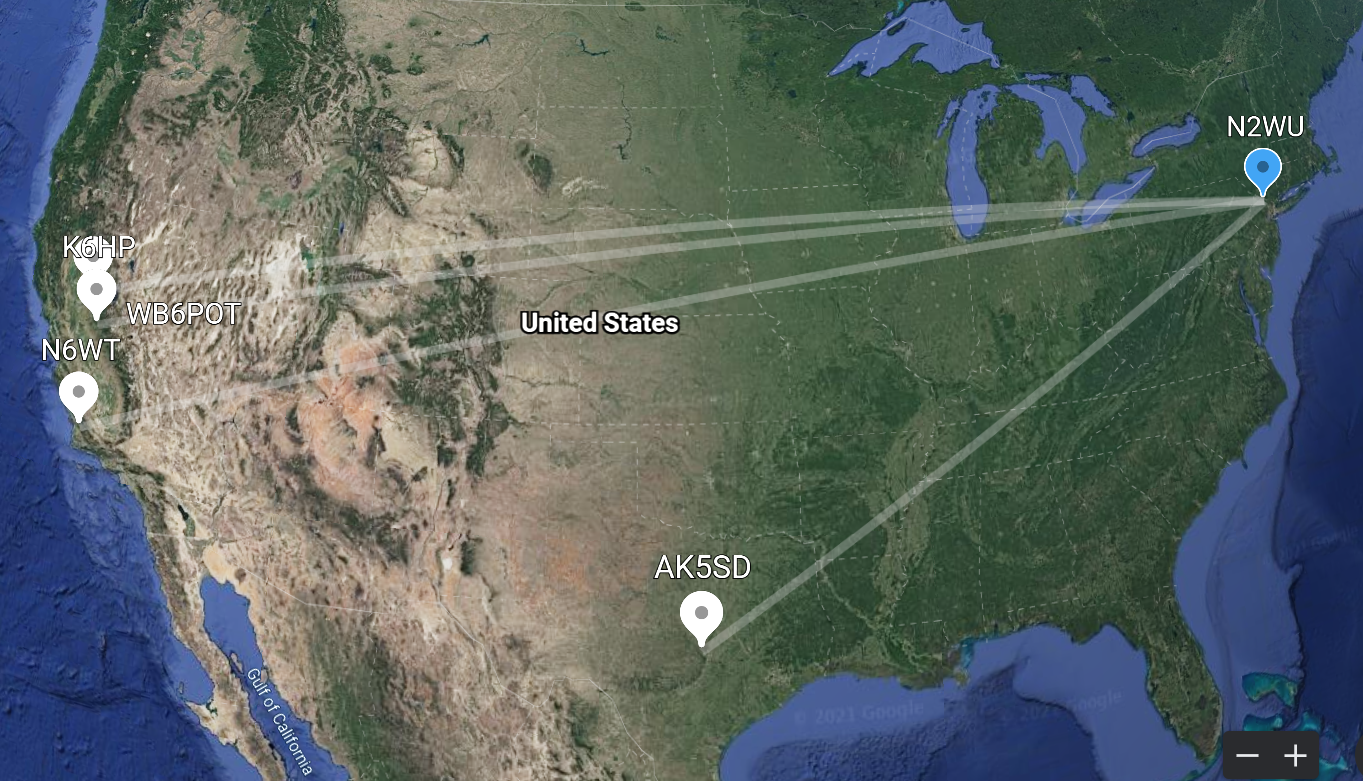 Google Earth Contacts
Slide Mountain
On the top of slide, my hands got cold quick. I decided to test out the straight key since my hand was frozen roughly into a fist shape: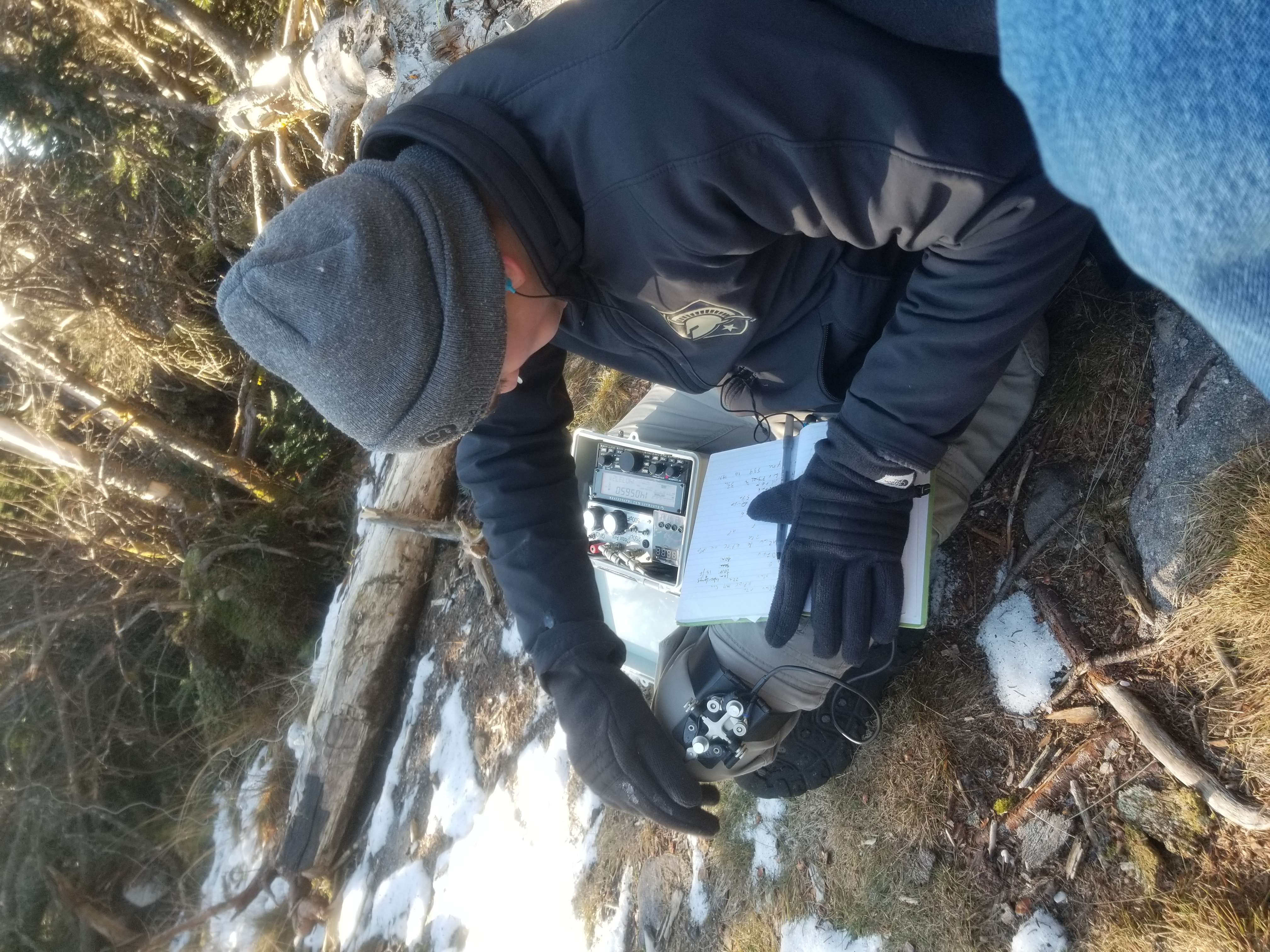 j37 With Leg Strap in Action
Contacts were less-than-great, but I'll take what I can get.
| Callsign | Band | Time | Location |
| --- | --- | --- | --- |
| WB6POT | 20M CW | 1433Z | California |
| F4WBN | 20M CW | 1434Z | France |
| AC1BB | 20M CW | 1439Z | Massachusetts |
| W5ODS | 20M CW | 1448Z | California |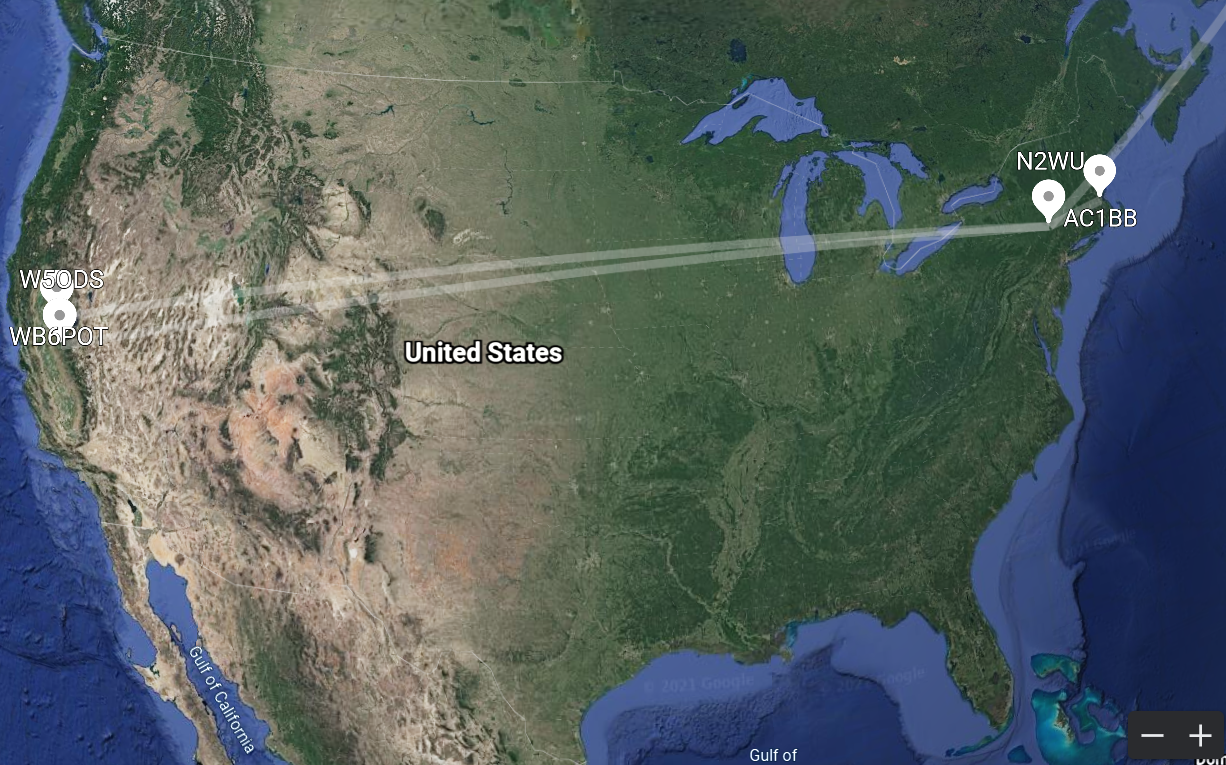 Google Earth Contacts, missing F4WBN
Conclusion
SOTA is better with friends. I was glad to share this 14-point weekend with other hams!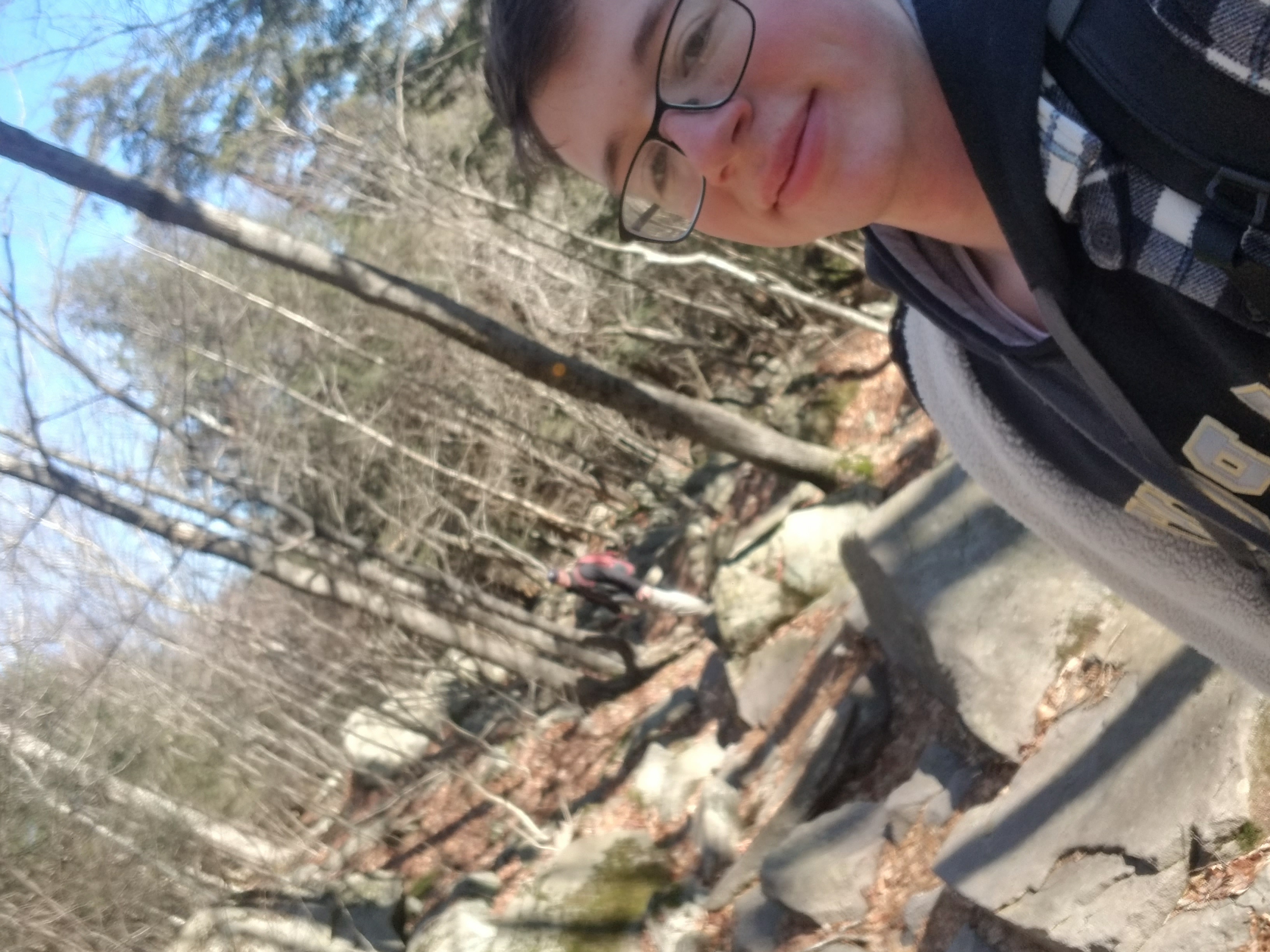 K0SAX's Selfie
-N2WU